Member
Join Date: Nov 2011
Location: Texas
Posts: 77
One More Generator Light Question
---
About a year ago, I asked the question of how to get my gen light to work in the dash of my '62 after an generator to alternator conversion. After looking online, I found the simplest way to get the indicator light back would be to run a wire from the ignition switch through the bulb then to the exciter post on the alternator. Will this work or did the wide world of the interwebs steer me in the wrong direction? I have it connected like that right now,and it seems to work.

If this is posted somewhere else, please link me to it.
Moderator
Join Date: Jan 2006
Posts: 13,022
You are correct.

Big Dave
Member
Join Date: Nov 2011
Location: Texas
Posts: 77
Thanks Dave. It just seemed a little too simple to actually work!
Member
Join Date: Nov 2011
Location: Texas
Posts: 77
I'll add one more question to this topic. I finally got my new tires and took my '62 out for an evening cruise. I had the high beams on along with my knee knocker a/c. The GEN light was dimly on the whole time. Is this something I should be worried about?
Moderator
Join Date: Jan 2006
Posts: 13,022
It means that the total load of lights and A/C blower motor exceeded the charging capacity of your generator. Most cars of this era had a 40 Amp fusible link and only a 36 Amp alternator to charge the battery. Everything was powered by the battery, with the alternator being a portable battery charger.

Modern cars reverse this thought process as there are more drains on the electrical system with added electrical loads (power windows, power seats, stereo, electric fuel pump, computers (there are 14 different processors in my 2011 Silverado truck) electric fans, etc.). Modern cars have a 120 Amp or larger capacity alternator that out puts it's rated power at only 2,200 RPM compared to 3,600 RPM for your alternator to max out on power generation. The car runs off the alternator with the battery being for extra heavy load coverage and to start the motor.

If you are tired of dim lights at the stop light and worrying about reserve power to crank the car at night if you turn it off at the gas station, then I suggest upgrading your alternator with a new 120 Amp Delco-Remmy CS alternator that bolts on AND your car's wiring.

The wiring is old, the copper wire and it's PVC insulation are brittle. You don't need the insulation flaking off and starting a fire; or the extra load you added to the car causing a wire to over heat. The wire gauge chosen by GM was the absolute minimum it could get by with to save a few pennies per car. It was barely adequate when new and is inadequate to handle any additional power.

I strongly recommend upgrading the wiring if you increase the power load or alternator.

Big Dave
Member
Join Date: Nov 2011
Location: Texas
Posts: 77
The alternator I replaced my generator with is the "newer" style 3-wire alternator. Also, the load on the alternator is no more than it was when the car had the old generator on it. The aforementioned A/C was installed by a dealer somewhere around 1965 from what I'm told. The only thing on the vehicle that deviates from original is the USB adapter in the cigarette lighter. Why would original equipment be putting such a strain on the charging system?
Moderator
Join Date: Jan 2006
Posts: 13,022
In the age of fresh air ventilation provided by cranking the window down by hand the only electrical load was the starter motor, and your lights normally. If you drove in the rain you would notice a marked difference in the speed of the windshield wipers at a stop sign or if you turned on the head lights as well, because you were by that time exceeding the rated capacity of the alternator.
Typical Delco-Remmy DN (externally regulated) alternator of the sixties on a Chevy.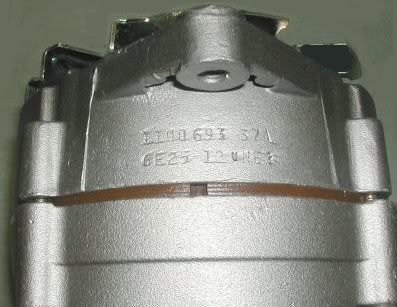 Note how much power it out puts and at what RPM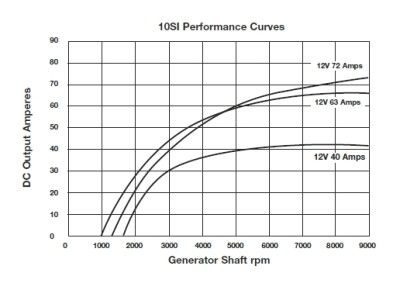 It only out puts a quarter of it's rated power below 3,000 RPM and has to spin up to 5,000 RPM to reach full power.
Today everything is powered by an electric motor or a transistorized power supply that gets it's power from the car's twelve volt system. So i8f you relied upon the charging system you have now the windows wouldn't go up or down if it had a power window without a direct line to the battery by-passing entirely your car's wiring.
When your car was built plastics where in their infancy, and your TV was full of vacuum tubes because transistors couldn't handle power beyond a battery powered radio. Mechanical voltage regulators where used because transistorized full rectifying bridges hadn't been invented that could handle the 65 Amps that the alternator produced. Times have changed. Unless you are going to keep the windows down by hand crank and listen to your tube type AM radio installed in cars until the mid sixties, you could use an electrical upgrade, just like you want a bigger motor and disc brakes.
Big Dave