&nbsp
Join Date: Oct 2014
Location: Ca
Posts: 19
No dash lights WTF ?????
---
The dash lights are not working on my 1965 Impala. I replaced the headlight switch and checked the fuses. Bulbs are OK. Wires seem to be in place. A real fun job working from under the dash.
The only light that works is the red brights light.
Can anyone help me with this?
Al

Senior Member
Join Date: May 2006
Posts: 1,113
Lights
---
Defiitely sounds like a headlight switch issue. The brake light is not controlled by the headlight switch and I would guess the signals also work. Silly question but did you turn the headlight switch to full brightness fo the dash bulbs?

Paul
---
Paul
1966 Impala SS
Please Visit our new site:
http://www.winvoices.com/
1959 through 1988* window stickers, car shippers, dealer invoices, retail sales orders and tank stickers, expertly reproduced, for most Chevrolet Models.
Moderator
Join Date: Jan 2006
Posts: 13,019
I have said this so many times my typing finger has a callus on it. Ninety percent of all electrical problems on these old cars is a bad or poor ground. Electricity is as simple as PIE:
Also known as Ohm's law:

Basically if the resistance gets to high the voltage drops to zero and the current is choked off so nothing works: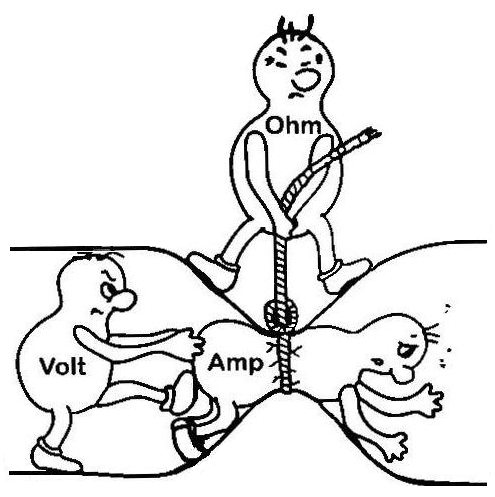 So just by taking a part apart to see what is wrong with it and putting it back together fixes a lot of problems because all of the electrical parts are bolted or attached to a steel frame (steel is a rotten choice for an electrical circuit conductor because it rusts, and when dissimilar metals are bolted together it gets worse.)
Big Dave
&nbsp
Join Date: Oct 2014
Location: Ca
Posts: 19
I turned the switch many times. Brand new B W unit.
Since it's next to impossible to see any detail from under the dash I may have pull the damn instrument panel out..such fun!
Thanks,
Al
&nbsp
Join Date: Oct 2014
Location: Ca
Posts: 19
Still no dash lights. I'll try finding the ground straps later.
There is a new problem.
The right rear T S is not flashing. New 2 filament bulb.Tail and brake lights work fine as does the right front T S. Left side front and back flashes..no problem.
Right side T S indicator flashes but slower than the left
What gives?
Any members with electrical experience live around the Auburn, Ca area? I'm ready to pay to fix these damn problems.
Al
Moderator
Join Date: Jan 2006
Posts: 13,019
Electrical problems are so time consuming that rather than waste money on labor shops that specialize in electrical problems yank out the entire factory wiring wire brush off loose rust and fix any rusty areas with a sealer before installing a complete wiring harness that they made in their shop or bought from American Auto Wiring.

Like I said steel is a lousy conductor. In the plastic Corvette there is twice the wiring as found in a production car, because every circuit has it's own grounded return wire. There are no electrical circuit corrosion issues on a first through fifth generation Corvette, but it comes with the added price of doubling the number of wires.

There are shops that specialize in just automotive electrical problems, but they are pricey. You can find them on line (or in an old yellow pages phone book if you have one still). Replacing everything is labor intensive but after buying a AAW wire harness set (there are three different harnesses in a low dollar car, more if fully optioned with power everything) it is straight forward R&R (remove and replace for those that don't understand mechanic talk). You can do it yourself for less following the instructions.

I used Painless wiring in most of my race cars or built my own wires as DC circuits are very simple (compared to a Delta or "Y" 440 volt three phase AC wiring circuit in a commercial building). It really boils down to removing and replacing a wire bundle. This is infinitely easier than taking the bundles apart and replacing them one wire at a time.

Big Dave
Moderator
Join Date: Jan 2007
Location: Lewisburg, Ohio
Posts: 2,909
There is a large wireing conector on the back side that all the wireing plugs into.
Moderator
Join Date: Jan 2006
Posts: 13,019
Not to mention the even larger one that forms the back of the fuse box. You need to disassemble and clean first with a nylon bristle brush, then a brass brush to clean the connectors. I use a stainless steel brush to clean corrosion at were the instrument panel bolts to the steel dash as that is your ground point.

Photobucket is down for maintenance at the moment so I can not post a picture of the fuse box disassembled from the floor boars and the connector on the under hood wiring harness that plugs into the back of the fuser box to supply it with power.

Big Dave
&nbsp
Join Date: Oct 2014
Location: Ca
Posts: 19
For starters thanks to all.
What kills me is that after I got the "wood" wheel on and the new T. S. switch in and all the signals working..the damn right rear T S quits.
Pulling the dash is major and very difficult labor. Not an option for me at 71.
I may try a new fuse panel. I did clean the taillight fuse contacts. One contact clip was not firmly anchored.
Thanks,
Al
&nbsp
Join Date: Oct 2014
Location: Ca
Posts: 19
Hi Dave
I did clean the fuse block as you mentioned. When Photobucket is up will you post the location of the dash ground wire strap? I'm sick of looking for it.
I read in the Chevy manual that changing the dash bulbs was easy....B. S. What a f'n joke
Al