Member
Join Date: Aug 2017
Location: Outside Chicago
Posts: 36
New to Impalas
---
Hello all,

I am the proud owner of a 66 Impala Super Sport Convertible. I found this site in a search for like minded and like pressed to work with others to both solve problems and learn about Impalas.
Moderator
Join Date: Jan 2006
Posts: 13,019
Welcome to the Team!

We get spamers here all the time, so I pull up new member's IP address and locate it on the planet with a program I have.

It shows you to be at 38 degrees Latitude and -97 degrees Longitude which puts you on a farm way out side of Wichita, Kansas (you can plug those coordinates into Goggle Earth to see the satellite image of your house) Which technically is outside of Chicago: and I mean way outside!

Big Dave
Moderator
Join Date: Aug 2008
Location: Miamisburg, Oh.
Posts: 3,348
]Wow that was right out of left field Dave!
Welcome to the site!
Sent from my XT1254 using Tapatalk
Member
Join Date: Aug 2017
Location: Outside Chicago
Posts: 36
Hi Dave,
Thanks for the welcome.
I,m pretty sure I'm allot closer to Chicago than that, as on a clear day I can see the Willis (formerly Sears)tower in Downtown Chicago while driving around. I'd like to throw out my address but in this age this could be a bad thing. I,m not sure how the IP address works maybe that's the problem.

Could there possibly be a crossed IP address's as I see this post that I didn't enter below labeled "recent threads"?
"I have two 61 impalas 1 is a convertible one is a WjW57 Transmission & Driveline 3 08-05-2015 09:27 AM Impalas Argentina !!! impalaargentina Welcome Forum 22 05-15-2013 06:31 PM Drag racing Impalas? Glen Koenig Performance 3 02-09-2012 05:32 PM Re: The Mystery of Oz Impalas John Convertibles 1 09-20-2010 08:52 AM Links For Impalas bex66 General Tech 9 10-22-2007 11:55 AM"
Moderator
Join Date: Jan 2006
Posts: 13,019
Your IP could have been rerouted. Or there may have been a single digit left in my cache as I cut and pasted your IP address corrupting it. Hopefully no harm no foul.

I am not familiar with a WjW57 Transmission & Driveline. Is that a car made in south America. GM had assembly plants down there as in Canada and as such they made a product unique to the that region.

Big Dave
Member
Join Date: Aug 2017
Location: Outside Chicago
Posts: 36
Hey Dave,

I did not write "I am not familiar with a WjW57 Transmission & Driveline". It is in recent threads below.

I am not concerned about the IP only that your aware I am who I say I am.

So that being behind us, the original reason I found Impalas was working on a wiring issue in my console. So here's the question.

I have a 66 Super sport and am trying to get the gauges in the console working. The harness, switches (neutral safety and reverse lights) and light bulbs are all there and work, however the amp and temp and oil pressure gauges don't work. I have purchased an OEM Shop Manual and scoured the net looking for a wiring diagram that includes a console with gauges with no luck. The idiot lights on the dash work and in one of my searches someone stated that if it had gauges the idiot lights wouldn't work - I don't agree as mine has both and the lights work. Can anyone help with a wire diagram or 1st hand knowledge.

Thanks in advance.
Moderator
Join Date: Jan 2006
Posts: 13,019
There is a reason you get either idiot lights or gauges. They both require a sender but there is only one source for the signal. A oil pressure gauge in 1966 was probably mechanical needing a nylon eighth inch tube running from the port on the block where your current oil pressure idiot light is currently screwed into. Even if it is an electrical gauge it still has to screw into that oil gallery in the block.
I used aftermarket gauges (Autometer Sport Comp mechanical gauges) and to get both my idiot light, my gauge and my safety cut off to kill ignition if I lost oil pressure I had to tee them all togeter.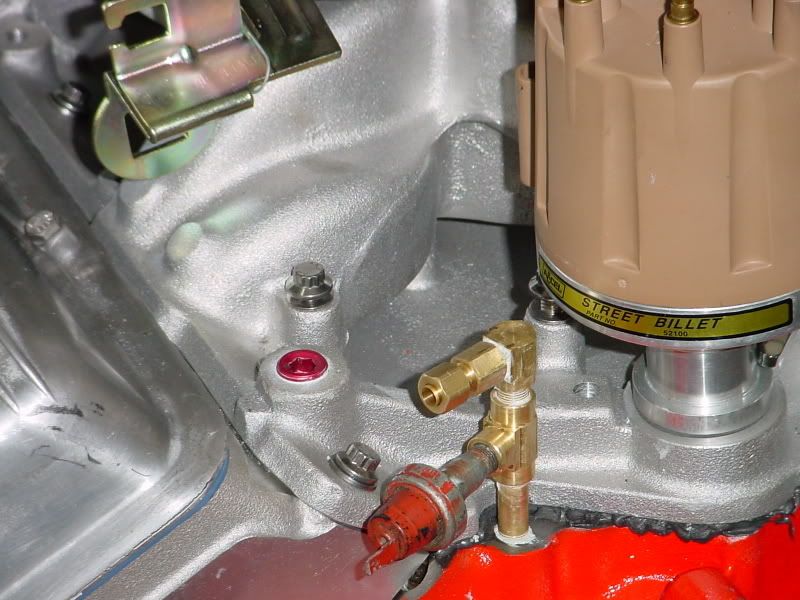 If your head has a pipe plug in it for a temperature sender then you can have two sources to monitor coolant temperature. One for your idiot light and another sender for the gauge. If not you can find a newer thermostat housing designed to accept a heat activated vacuum valve, and put the second sender in that location.
The clock is electric and just needs a power feed. The Ammeter is actually a shunted volt meter that you put inline with power out from the alternator and ground.
The factory had a special separate harness that fed the gauges and pluged into a factory harness designed for a gauge equipped car (has a bulkhead plug that the gauge harness plugs into). You can wire your gauges separately from what Chevrolet had in mind. You just have to know what wire needs to go where.
First you need to determine if your oil pressure gauge is mechanical or electric. I mechanical you can plumb it as I did with a brass T fitting. If it is electric you will have an idiot light sender and the larger electric oil pressure sender can be put on a brass T as well. You then run a wire from a 12 Volt source (switched) to the gauge and then from the gauge to the sender. Same for the electric temperature gauge.
Big Dave
Member
Join Date: Aug 2017
Location: Outside Chicago
Posts: 36
Thanks Big Dave,
I understand I can rewire the harness and have already built the shunt for the ammeter and used a thermostat spacer to allow for the temp sensor for the temp gauge, but I want to use as much of the OE wiring as possible. I don't understand why it would be wired differently today - that's why I'm trying to find a wiring diagram to see how it is meant to be. The Shop Manual I have is from Detroit Iron and I called them today and asked if it was on the CD as it states
Quote:
All Electrical Systems
- but she said they don't include wiring on the CD.
Oil Press.Gauge
-I have teed the oil pressure switch (almost the same as you show) to allow for the gauge and am using 3an hose (nylon is good but worry about leaks in the car).
Temp Gauge
- Installed the sensor in the thermostat spacer and have located the wires in the console harness but I would like to know where they go. The current and I believe OE sensor is still in the car which is a two wire Cold - Hot sensor. As my car is a 1969 396ci are you aware of any ports in the Block / Heads to install the temp sensor?
Amp Gauge
- Have added a shunt (24in. 10 ga. wire) in the run from the battery to the left side horn relay which will allow the gauge to work - but again how was it when the car was built.
I have attached a picture of the Console harness disconnected.
Thanks for your time and knowledge. I do appreciate the help.
RMC