Member
Join Date: Jan 2018
Posts: 66
Are all heard for the 283 the same?
---
The question is, for those running or have run headers on a 283 was there a brand you preferred or wish you got instead.


This model has thicker flanges, this one mounts easy, these are the bolts you want...
Moderator
Join Date: Jan 2006
Posts: 12,690
Headers are a personal choice. Even using headers at all when the factory exhaust manifolds works nearly as well, without any of the issues you referred to is a personal choice.

On the street (below 4,600 RPM) a set of 2-1/2 inch ID cast iron rams horn manifolds flows as well as a set of long tube 1-5/5th inch primary tubular headers. It does so without exhaust leaks, without an increase in under hood heat, without any added expense, and without there rusting out and needing replacement in under five years.

So what do you gain if you buy headers? You get to join all of your friends in the I have headers too on my car crowd: so you won't feel alone, or have to justify to all of your friends why you haven't joined them. If you never run mufflers AND have a solid cam that can rev above 4,600 RPM (most hydraulics stop making power at 5,800 to 6,400 RPM due to valve float) then you can gain a little power from reduced back pressure and the ram effect due to standing waves in the headers. If you ever cap them off to prevent getting a ticket then the ram effect ceases just like putting a cork in a pipe organ tube.

I used to shift my 283 at ten grand (that is why I had a 10,000 RPM Sun tach on the dash). It was the only way to get any power out of a 283. I used Jerry Stahl headers in my '55 back then. It required a solid tappet cam, pinned heads, and special valve springs to twist it that high and a caviler attitude about blowing an engine up (Chevy was making millions of them so there was always another to replace one you scatter all over the track). You just hopped it didn't take out your cam or damage a head doing it.

There is no advantage that one header brand has over another. The bigger the primary tube and the longer the collector the more power you will make but the harder it will be to get ease of fitment. In a full size car this isn't an issue as there is lots of room, not so much with Chevy II (I had to pull the motor to change the plugs with a 1967 Chevy II and a 427 I had with Hooker fender well headers). In my shop building cars for others who demanded headers I would specify Headman as they went into the Nova or Camaro bodies with the least amount of cursing. I don't have a lot of experience with full size cars and headers.

Big Dave
Senior Member
Join Date: Dec 2012
Location: virginia
Posts: 370
Add me to the list of those who agree w/Big Dave on headers. He hit it out of the park as to why.
Member
Join Date: Jan 2018
Posts: 66
Are all headers for the 283 the same?
---
Everything you read and every car until this one people talk benefits... just like the carb and manifold.. I know the 283 isn't a beast but 275+ up should be possible. I was also consider a posi and 3.42 gear...
Moderator
Join Date: Jan 2006
Posts: 12,690
Headers are a benefit only to racers. They have to be uncapped to work. It is based upon wave mechanics from high school physics; so if you run a muffler (required by law on the street, you see little to no benefit.
Tubular headers can (not necessarily) reduce back pressure in the total exhaust system. BUT a crossover tube on a dual exhaust will have a greater impact in terms of adding horse power. This is why every one runs such large tubes on the street. Though to be true most don't know why they run a three inch exhaust system, they are just joining the in fad in following all of their friends. In addition to the sought after louder exhaust (equating noise with power) the larger exhaust size reduces back pressure which enhances cylinder filling on the intake stroke by getting rid of more of the exhaust gasses than a smaller exhaust system would.
I am a degreed engineer; and I studied exhaust gas theory in how it affects an internal combustion engine. Since standing waves used to create a low pressure area out side of the exhaust valve will not work when the header is connected to a exhaust pipe, that leaves only the pulses in the tube caused by the plugs of hot exhaust gas expanding out of the cylinder. So long as the round trip from valve to valve between two adjacent cylinders exceeds eighteen inches you do not have to worry about reversion from your exhaust system. Tube headers accomplish this by isolating the cylinders. A cast iron rams horn manifold does it by the size of the pipe (two and a half inches from port to tail pipe) which offers more room for the exhaust plug to expand into.
This is why a Rams horn manifold makes more power and torque at lower RPM than a set of tubular headers (which are actually more restrictive). You won't read this information in a car magazine because they are paid to advertise (and hence they are trying to sell) tubular headers.
A member here built a 383 SBC and tested headers and cast iron manifolds on his engine in the same day (weather and temperature affect dyno pulls so you can not compare dyno pulls directly unless they are at standard temp and pressure (that is to say the numbers are corrected) which cause people to claim that the comparison isn't valid.
Here are the results of that test: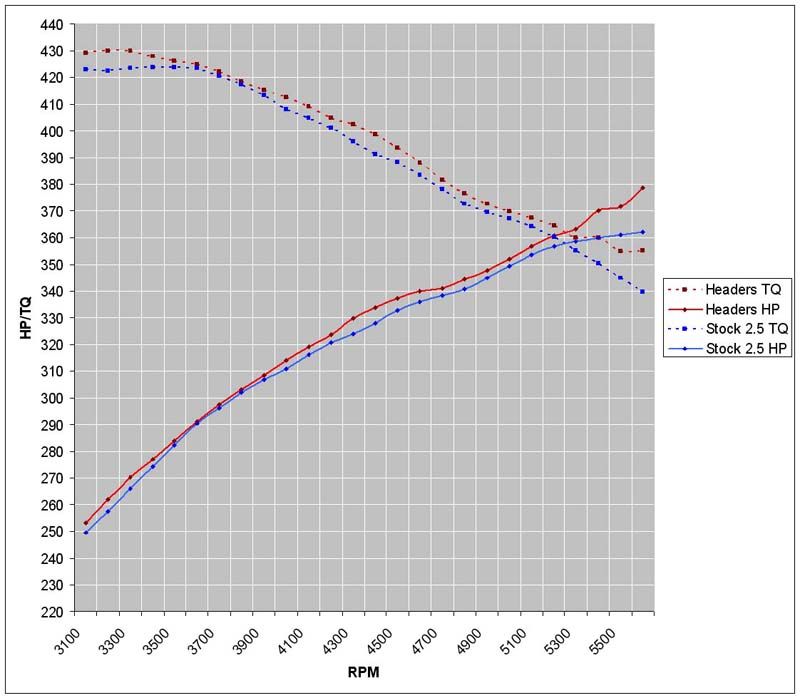 You will note that it isn't until the engine is spinning above 5,200 RPM that the header makes an appreciable contribution to the power. If you have a hydraulic cam that gives you only a 1,000 RPM where a header makes seven additional horsepower. Is it worth the hassle?
Big Dave
Lifetime Premium Member
Join Date: Jan 2018
Location: Erath County Texas
Posts: 105
my objection to the RAM manifolds is they cracked at the merge ... multiple times.

So ... ceramic coated headers for me. Serpentine Kit removes the need for accessory mounts on manifolds ... so ... big tubes dual exhaust. glass packs.
---
1961 Impala. 4 door. 283, turbo 350. Imron Midnight blue metallic with silver stripe.
Photo Album
Senior Member
Join Date: Jan 2018
Location: Coopersville, MI
Posts: 297
Your biggest problem with header selection has nothing to do with the normal stuff most people worry about with headers. Your issue is your 62 has an X frame. This means either
A. you have to find a fender well style header or
B. You have to find one that lets your exhaust drop under the frame at an acceptable location as not to end up being the low part of the car and drag on speed bumps.
I personally have not looked for SBC headers for my 63 as I am moving to a W motor (Gen I BBC). They make one of the best for my application and looking they also make a SBC application.
https://shop.dougsheaders.com/doug-s...l#.WzS-8YVKjDA
If they got it right for the W motor I would bet they got it right for the SBC also considering it is probably a larger market to sell too. Looks like they are sold out currently on the ceramic coated but have a Hi-temp black coated and raw steel version available currently. You could always call and see what type of wait would be involved in ordering a back ordered set.
Moderator
Join Date: Jan 2006
Posts: 12,690
If you bought the plane painted steel you could have Jet Hot ceramic coat them for you. If your home oven was big enough you could do it your self as the water glass that makes up the "ceramic" coating is easy to apply and bakes at 400 degrees to cure. A true ceramic coating would be impossible for the home hobbiest unless your other hobby was firing clay in very large batches (batches as big as a header).

Commercially Jet Hot dips them in a vat of water glass. This is why they advertise that they coat their's inside and out, instead of just spraying the outside. They dip because it is cheaper labor wise, and faster, not because they want to protect your headers better. Dipping only works if you have a lot of headers to coat. So that won't work at home because what you don't use will dry up making the process more expensive.

Big Dave