&nbsp
Join Date: Feb 2013
Location: Australia
Posts: 5
RHD Canadian Export Impala Engine Bay
---
Hi All
The restoration of my "1 of 3" RHD Canadian 64 Impala Station Wagon is going very well (build thread
here
)
With the front sheetmetal nearly ready to be bolted back on, I have turned my attention to getting the engine bay as when it left the factory.
I posted over on Chevytalk and got some good tips but I thought I would run it past the good folk here in case there are any Canadian Impala experts. For starters, I have found a picture of a nicely restored stock RHD engine bay which I am attempting to replicate but think there may be some anomolies.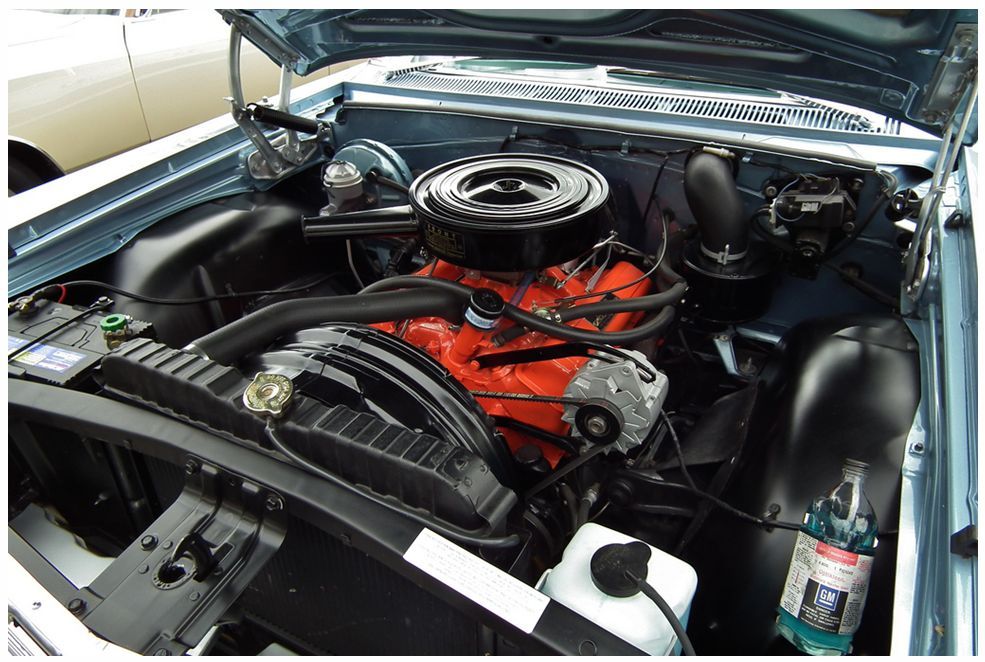 This is what I can see is wrong:
- Underhood color should be satin black, not body color,
- Bendix Brake power booster should be satin black
- Hinges I think should be dark grey
- Repro sticker on aircleaner is wrong.
So with that in mind this is my plan (I would appreciate your views):
- Firewall to be freshened up in body color
- Block, oilpan, heads, waterpump, intake, valve covers all chevy orange
- valve covers to be canadian without script
- original rochester 2GV with triangle tag
- Blue return spring
- Canadian Aircleaner - no sticker on top and will preserve the stamped instructions on the side as shown here:
- Hinges dark grey with black springs
- Brake Booster Satin Black
- Master cylinder natural with silver cap (not anodized)
- repro Coil in dark grey
- Coil holder in natural steel
- Black distributor cap
- black plug wires routed as per factory including oil pan clips
- Install spark plug wire heat shields
- Dipstick and tube natural
- flange and water pump pulleys satin black
- fan spacer natural and 4 blade fan satin black
- oil cap chevy orange
- alt brackets in satin black
Sound right..?
Many thanks
Simon
Canberra
Australia
---
Last edited by OZ64Wagon; 03-07-2013 at

07:31 AM

.
Moderator
Join Date: Jan 2006
Posts: 12,887
Brake booster canister was cadmium clad not painted. The master cylinder was natural cast iron (not painted at all) that soon became at first red oxide in color and later turned black when covered in oil and road grime. You can paint it with a cast iron gray colored paint to simulate the natural finish.

The fenders, radiator core support, and hood springs where all painted egg shell black (semi flat) that varied as to how dark it was from car to car because the paint came out of a rail car that was not shaken or stirred once it was parked on the GM plant siding. The pigment settled out in the car over time and it took a few days to empty once connected. The darkest paint came out of the bottom of the tanker and the lightest was painted from the top that is why there is no one definitive paint color for the semi black finish.

Big Dave
Moderator
Join Date: Jan 2007
Location: Lewisburg, Ohio
Posts: 2,909
Was the firewall painted body color in 64?
Member
Join Date: Nov 2009
Location: Mission, BC
Posts: 40
Big Dave,
Info like that is PRICELESS. No way most people think along those lines when it comes to how things were done, back in the day.

You are a fountain of VERY useful information, Sir.
---
It's easier to apologize than to ask for permission!

1965 Biscayne: 350, PG, 12-Bolt. PS, PB.

1970 Chevelle Malibu: 53 on 753.

Brian Daniel McClure: 1970-2015. R.I.P. Brother.
Moderator
Join Date: Jul 2009
Location: Canada
Posts: 1,471
Dave's info is correct for US cars (although there were variances between all the plants), but may not be correct for Canadian-built cars. I don't have that info, however.

For that air cleaner stamping: if you know someone that is good a graphics, you might be able to get a new rubber stamp made if you can get that text loaded into a program where you then print off a reverse image in text. Places like Office Depot offer rubber stamps with custom graphics/text, you just give them the image you want printed.
---
Two doors, four doors, wagons, and ragtops.